Product Details
Axial® climbs to the peak of scale rock crawling with the ready-to-run SCX10™ III Jeep® JT Gladiator. The upgraded chassis offers a third-channel DIG function plus 14-inch wheelbase that allows Axial® to include a larger, more realistic 2-piece body.
Key Features
Replica V8 engine cover, transmission housing and transfer case cover and protect the motor while improving scale appearance and adding forward-mounted weight.
DIG function transmission option lets you lock the rear axle from the transmitter for front wheel drive and a tighter turning radius.
Three-piece body provides a more realistic deep bed.
Spektrum™ DX3™ DSMR® radio is fully compatible with the Smart telemetry potential of the installed Firma™ Smart 40A ESC/receiver.
Ready to Run completion level comes with everything needed to operate besides a battery and compatible charger
In The Box
(1) Axial® SCX10™ III Jeep® JT Gladiator 4WD
(1) Spektrum Firma™ Smart 40A ESC/Receiver (installed)
(1) Spektrum 15kg Servo (installed)
(1) Spektrum™ DX3™ DSMR® Radio
(1) Product Manual
Needed to Complete
Vehicle Battery (accepts standard and shorty packs)
Compatible charger
LiPo Safety Container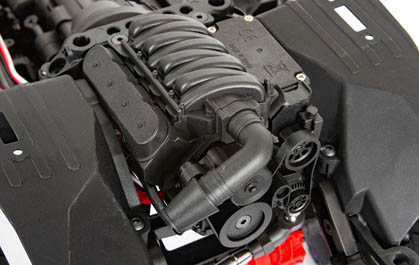 REPLICA V8 ENGINE COVER, TRANSMISSION HOUSING AND TRANSFER CASE
The V8 engine cover protects the 540-size motor and is mated to a scale transmission housing. In addition to offering motor protection and realistic looks, the design gives the chassis forward-mounted weight.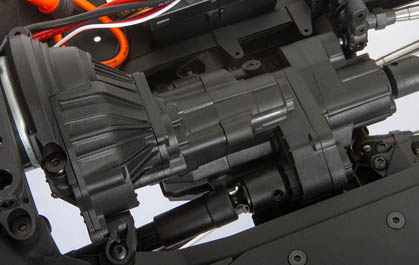 DIG TRANSMISSION WITH TWO-SPEED OPTION
The transmission arrives set up with a DIG function for locking the rear axle from the DX3 transmitter — giving you the tighter turning radius of front wheel drive on demand. You can also choose to set up the vehicle with a 40% faster second gear instead of DIG, or upgrade with an additional micro servo and 4+ channel radio (such as the Spektrum™ DX5) to have access to both the DIG and two-speed functions simultaneously.
PORTAL OFF-SET AXLE HOUSING WITH HYPOID RING AND PINION GEAR
The new AR45™ portal axles feature an offset front housing for more realistic looks, portal gears for extra ground clearance, and universals that provide 45 degrees of steering. In addition to the portal gears, the differential locker includes tried-and-true Hypoid gears — allowing for smaller size gears while improving gear reduction at the axle and reducing torque twist.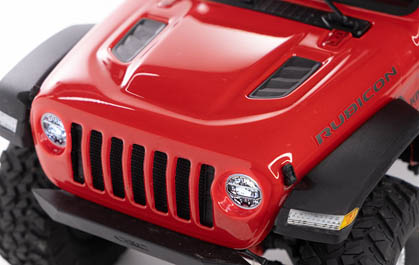 HIGHLY DETAILED LEXAN® BODY WITH INJECTION-MOLDED FEATURES
The scale Jeep® JT Gladiator body mirrors its full-size counterpart with many highly authentic details. In addition, the body has over 20 injection-molded parts including a bed rack, door handles, mirrors, hood vents and more — taking polycarbonate body realism to the next level.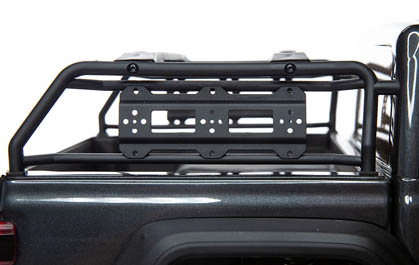 THREE-PIECE BODY
The Jeep® JT Gladiator body has been split into three pieces, allowing for a more realistic deep bed that can accommodate all the scale items you wish to add.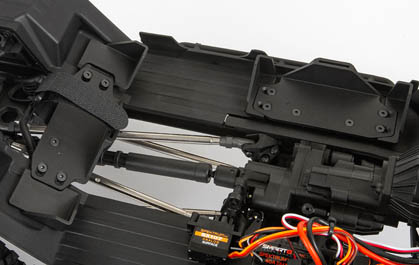 NEW BATTERY MOUNTS
The Jeep® JT Gladiator SCX10™ III chassis provides a new battery location near the center of the vehicle. With the motor now up front, the battery position creates a more balanced chassis. There are also locations in the side pods for drivers who prefer smaller size LiPo packs.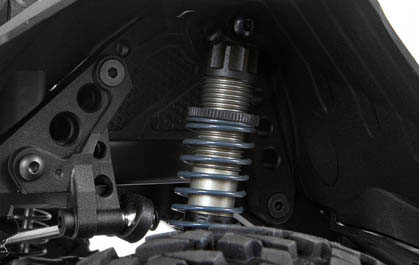 NEW SHOCKS
The hard anoldized oil-filled shocks feature threaded shock bodies with threaded shock collars to allow for more precise pre-load adjustments. They also have a screw in the emulsion-style cap for easier rebuilds.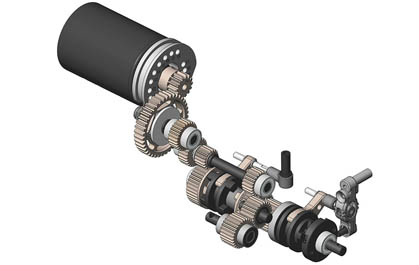 ALL-METAL GEARS
All of the drive train components in the transmission, portals and axle gears are made of metal for extreme durability.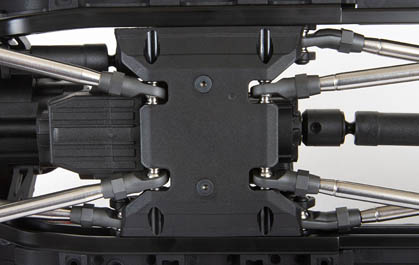 IMPROVED MATERIALS
The materials used in the SCX10™ III chassis provide a level of durability and stiffness never before seen in an Axial® scaler. These new materials allow for even tighter tolerances to be held and less "slop" than ever before.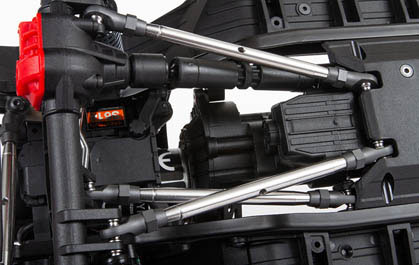 STAINLESS PIVOTS
The SCX10™ III Jeep® JT Gladiator suspension features metal stainless steel pivot balls at all suspension points. In addition to durability, they provide long wear life to keep the suspension handling consistent.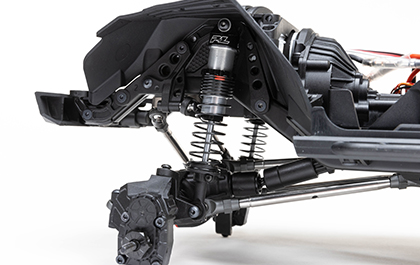 OPTIMIZED SUSPENSION GEOMETRY
The Axial® team took what they learned from the SCX10™ II and improved the suspension geometry for the Portal Axles, helping to further reduce torque twist while allowing drivers to fine-tune the chassis as they wish.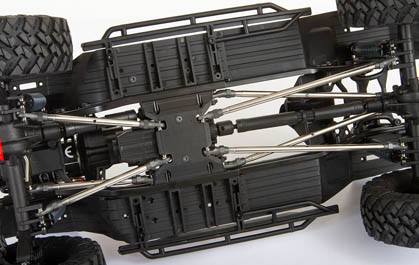 NEW EXTENDED FRAME RAILS
Instead of creating a smaller body to fit the SCX10™ III chassis, the design team extended the wheelbase to 13.9 inches with longer frame rails and chassis supports, allowing Axial® to provide a more realistic version of the Jeep® JT Gladiator.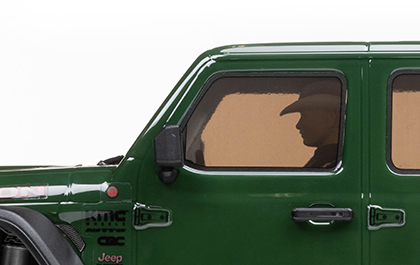 DETAILED INTERIOR WITH MOLDED DRIVER
With its molded driver figure and more, the detailed interior of the Axial® SCX10™ III Jeep® JT Gladiator enhances its exciting scale looks.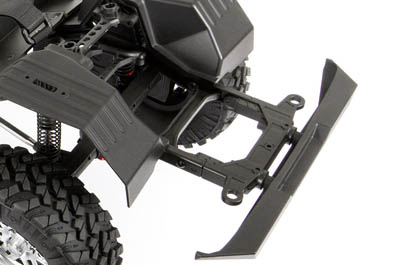 NEW REAR BODY MOUNT DESIGN
Body removal has been made easier with a new rear body mount design.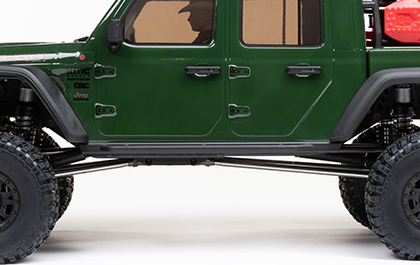 NEW INNER FENDER LINERS
The SCX10™ III Jeep® JT Gladiator body's unique inner fenders hide internal components that would usually be visible from the side of the chassis.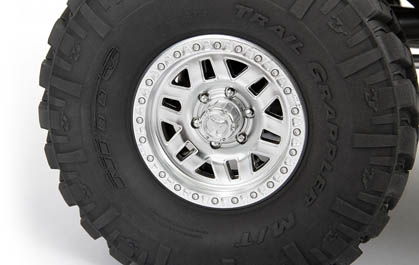 NITTO TRAIL GRAPPLER TIRES ON 3-PIECE BEADLOCK WHEELS
New taller and wider R35 compound, licensed Nitto Trail Grappler tires come mounted on 3-piece beadlock wheels. They provide ample ground clearance and dependable grip on dirt, rocks, and all other off-road trails. The tires can be removed and replaced easily without gluing.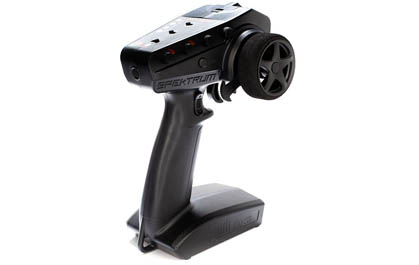 SPEKTRUM™ DX3™ 2.4GHz DSMR® TRANSMITTER
The included Spektrum™ DX3™ radio features exclusive DSMR® technology for superior range, response, and interference resistance. It's also fully compatible with the Smart telemetry potential provided by the vehicle's installed Spektrum™ Firma™ Smart 40A ESC/receiver. In addition, it comes with the thumb steering attachment for greater versatility when driving.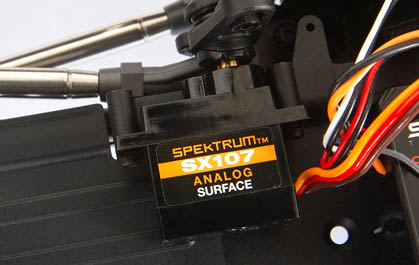 SPEKTRUM™ 15KG WATERPROOF SERVO
Drive with confidence in any weather and trail conditions — the electronics, including the Spektrum™ 15kg metal gear servo, are protected by a waterproof design.